2001 - Capacity building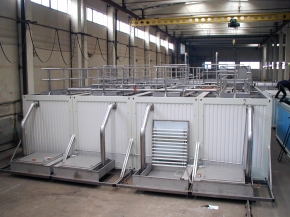 Equipment production:
During the year "REŠETILOVS UN CO" produces in total 83 WWTPs – 50 of them for municipal wastewater treatment and 33 – for oil-contaminated wastewater treatment.
Since the company foundation in total 338 WWTPs are produced.
Important and large-scale projects:
Municipal wastewater treatment stations with capacity of 600 and 780 m3/day produced for 2 projects in Russia.
Tunisia, UK, Sweden and Slovenia become the new export markets.
Production innovations:
Pilot plants replaced with aim to develop a new biological wastewater treatment process without excess sludge production.