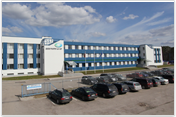 Contact information "REŠETILOVS" SIA
Legal address: Rubenu cels 48a, Raubeni, Cenu pag., Ozolnieku nov., LV-3002, LATVIA
Postal address: a/k Nr. 4, Jelgava, LV-3002, LATVIA
Phone: +371 28686098
Phone: +371 63024572 (secretary)
Fax: +371 63025678
Web-site: www.resetilovs.com
E-mail: info@resetilovs.lv
Fraud warning
"REŠETILOVS" SIA wishes to warn the public against transactions with unscrupulous market players, which disseminate fictitious commercial proposals for WWTPs with "REŠETILOVS" SIA technologies and equipment.
"REŠETILOVS" SIA do not provide equipment prices in absentia, via Internet or e-mail, all commercial proposals are developed individually by written inquiry.
"REŠETILOVS" SIA reserves the rights to take the legal action in order to terminate fraudulent actions by unscrupulous market players.